It is a great pleasure for me to welcome all of the students, aspirants, parents/guardians and all other stakeholders to Chandidas Mahavidyalaya.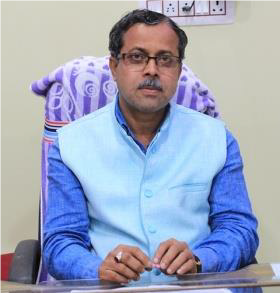 At first I would like to thank all who are visiting our website to learn more about the college. This college was established in the year-1972 in rural belt Khujutipara under district Birbhum with a mission to promote higher education among the students coming from backward families of the region and to make them employable in the context of changing world. In line of this mission we always remain careful from the moment a young person enters the college to make them happy and try to give our best to get them prepared in all aspects for future.
We aim for all the students to take challenge and be competent in our supportive, safe and secured environment by developing determination in mind and strength of character, equipping with the required skills and also developing all requisite infrastructural facilities which should have to have for a rural model college.
Our academic activities have been continuing to improve year on year taking the curriculum as our affiliating university offer time to time. Here we provide a wide range of varieties in teaching-learning process and also offer many extra-curricular activities to enrich our students in their academic as well as social lives.
We keep constant watch to maintain our valuable relationship among the students, teachers-students, teachers-parents and among our alumni. Also we try to maintain a bridge between college campus and its nearby community by conducting various community development and awareness programme.
Here, I would like to highlight that we are proud of our caring and inclusive ethos and try to set it at high standards to meet the expectations of our students.
I look forward to welcoming all of the stakeholders' assistance and co-operation and thereby ensure the best possible standard of education along with exemplary discipline in all regards in the campus.
I am sure that our students will always work hard to uphold the dignity of our college. I wish our students all success, specially I, on behalf our college-family wish the best for all the students getting enrolled in the new session.
Sincerely yours-
Dr. Sk. Ataur Rahaman (Principal)